YQM Celebrates Inaugural flight from Greater Moncton to Calgary with WestJet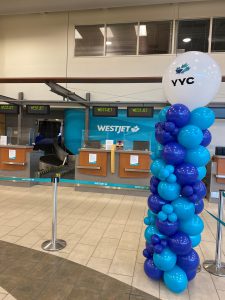 GREATER MONCTON, NB, June 13, 2023 – The Greater Moncton Roméo LeBlanc International Airport (YQM) and WestJet successfully celebrated an inaugural flight to Calgary today.
''We are excited to welcome a direct flight to Calgary this summer with WestJet, providing excellent non-stop, direct access to Western Canada," said Courtney Burns, President and CEO of the Greater Moncton International Airport Authority, Inc.
In June and July, flights to Calgary will be available five times per week. In August flights will be available six times per week. Additionally, WestJet will also extend the Calgary service into September and October by maintaining two flights per week. Starting on June 29, WestJet will also offer two non-stop flights per week to Edmonton from YQM which combined represents daily service from YQM to Alberta in peak summer months.
"With our new service between Calgary and Greater Moncton, we are thrilled to be providing a new direct link connecting the Alberta Rockies to the beautiful Atlantic coast," said Chris Avery, Vice-President, Network Planning, Alliances and Commercial Development. "As we continue to take strides to enhance connectivity between Eastern and Western Canada, today's inaugural service establishes a new and affordable travel option for business and leisure guests from Greater Moncton to connect onwards to a multitude of destinations across Western Canada and beyond direct from YYC."
Visit Flights | WestJet official site to view the flight schedule and to learn more.
-30-
About Greater Moncton Roméo LeBlanc International Airport (YQM)
YQM is a progressive airport and the leading airport in the central Maritimes. 24/7/365 – everyone associated with the airport strives to provide superior air service to passengers travelling all over the world and to the global cargo industry -safe, convenient, efficient, bilingual and businesslike.
YQM also strives to maximize its contribution to local and regional economic and community development – it currently drives over $665 million of economic activity annually, making it one of the top private-sector economic contributors to New Brunswick's economy.
Your economy. Your airport.
For more information:
Susy Campos, Director of Commercial Development
T: (506) 269-5053 / M: (506) 317-2006
scampos@cyqm.ca