Greater Moncton Roméo LeBlanc International Airport announces Courtney Burns as President & CEO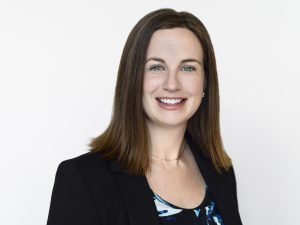 Greater Moncton, New Brunswick; May 5, 2022: Greater Moncton International Airport Authority and Vantage Airport Group today announced the appointment of Courtney Burns as President & CEO of the Greater Moncton Roméo LeBlanc International Airport (YQM). Selected for the role following a comprehensive competitive executive search, Courtney will be the third President & CEO of YQM under Vantage Airport Group's long term management contract of the airport, and the organization's first woman in the role.
"On behalf of the Board of Directors, we congratulate Courtney on her appointment as President & CEO. Courtney emerged as the ideal candidate for the role through our comprehensive and competitive executive search process," said Nancy Whipp, Board Chair, Greater Moncton International Airport Authority. "Her strong working knowledge of all aspects of the airport's business and operation and leadership skills will serve YQM well as it continues to grow as one
of the region's leading airports."
Since 2017, Courtney has been an integral member of the YQM management team in the role of Director, Finance and Administration. Over the past several years, she has capably overseen an increasing number of portfolios including all financial functions, human resources, and IT. She is a disciplined and thoughtful leader with a strong understanding of the economic importance of Greater Moncton's airport to the community it serves.
Prior to joining Vantage and YQM, Courtney worked with the Atlantic Lottery Corporation, where she led internal audit, IT financial planning and performance, risk management and compliance efforts over a six-year period. She began her career with international assurance, tax and advisory firm Grant Thornton LLP in Fredericton, New Brunswick, and holds a Bachelor of Business Administration and several professional designations as a Chartered Professional Accountant and a Certified Internal Auditor. Courtney also serves on the Board of the Chamber of Commerce for Greater Moncton.
"I'm very pleased to officially welcome Courtney to the global network of Vantage executives leading our airport and transportation projects around the world," said Stewart Steeves, Chief Operating Officer, Vantage Airport Group. "Under Courtney's leadership, YQM is well positioned to continue its important role as a regional connector, jobs creator, and community contributor in Atlantic Canada."
"I am honoured to accept the role of President & CEO of YQM," said Courtney Burns. "I look forward to leading the organization in its continued development as a progressive airport that provides safe, efficient and convenient passenger air service, global cargo connectivity, and strong contributions to our provincial economy."
Courtney officially assumes the role of President & CEO on May 16, 2022, as outgoing President & CEO Bernard LeBlanc begins his retirement, which was announced in October 2021. The airport's community-based Board of Directors and Vantage have helped support the transition of leadership from Bernard to Courtney, also facilitated by Courtney's years of experience with the organization.
Members of the news media will have an opportunity to meet and speak with Courtney on Monday, May 16, 2022. Additional information will follow in a separate advisory to be issued on Monday, May 9, 2022.
###
About Greater Moncton Roméo LeBlanc International Airport (YQM)
YQM is a progressive airport and the leading airport in the central Maritimes. 24/7/365 – everyone associated with the airport strives to provide superior air service to passengers travelling all over the world and to the global cargo industry – safe, convenient, efficient, bilingual and businesslike. YQM also strives to maximize its contribution to local and regional economic and community development; it drives over $665 million of economic activity annually, making it one of the top private-sector economic contributors to New Brunswick's economy. YQM is a member of Vantage Airport Group.
About Vantage Airport Group
Vantage Airport Group is a leading investor, developer, and manager of airports and transportation infrastructure projects around the world. Since 1994, Vantage has been making airports more efficient, profitable, sustainable, and connected to the communities they serve. Vantage has lent its expertise to more than 30 airports. Its current network is composed of 12 active airport and transportation infrastructure projects, including LaGuardia Terminal B in New York and Midway International Airport in Chicago. Vantage has offices in Vancouver, New York, and Chicago, and is a wholly owned strategic platform of New York's Corsair Infrastructure Partners for capital deployment in the airport sector.
Vantage Airport Group Media Relations
media_relations@vantageairportgroup.com