Greater Moncton International Airport Authority holds their Annual General Meeting and Highlights Key Successes
GREATER MONCTON, N.B. – The Greater Moncton International Airport Authority Inc. (GMIAA) held their annual general meeting on Friday morning at the Capitol Theatre lobby and updated the community and stakeholders on their main highlights of 2017. A second part of the meeting was a status update of the Master Plan findings up to now, a project to be completed this summer.
Here are some of the key accomplishments:
Most passengers flying through the terminal building finishing the year at 665.630
The Terminal building was paid off in 2017
It was the highest cargo revenue year ever at $2.67 million
There was the implementation of the airport operations specialist role
First travel agency in an airport location in Atlantic Canada
Airport surplus of $1.49 million
Second runway run with more than 150 participants and $8.558 raised for charity
"We're very proud of our achievements this past year and we are looking forward to working towards our strategic goals for the upcoming year. With the Master Plan well under way and other projects like the carbon accreditation Level 2 that was just awarded by a worldwide recognized program led by Airports Council International, positions us well for another successful year.", says YQM President and CEO Bernard LeBlanc.
A copy of the annual report can be found at http://cyqm.ca/about/media-centre/annual-reports/.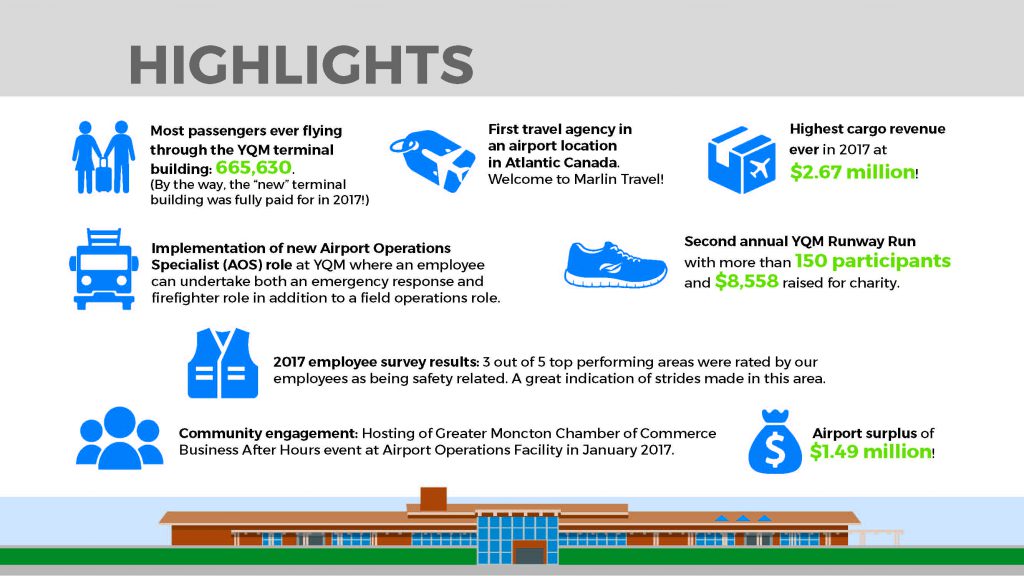 -30-
About Greater Moncton Roméo LeBlanc International Airport (YQM)
YQM is a progressive airport and the leading airport in the central Maritimes. 24/7/365 – everyone associated with the airport strives to provide superior air service to passengers travelling all over the world and to the global cargo industry -safe, convenient, efficient, bilingual and businesslike.
YQM also strives to maximize its contribution to local and regional economic and community development – it currently drives over $665 million of economic activity annually, making it one of the top private-sector economic contributors to New Brunswick's economy. YQM is a member of Vantage Airport Group.
Your economy. Your airport.
For more information:
Julie Pondant
Corporate Communications Specialist
506-856-5459 or 506-962-2830
jpondant@cyqm.ca