COVID-19 Update from Greater Moncton International Airport Authority
May 29, 2020
Update from Greater Moncton International Airport Authority
Greater Moncton International Airport Authority (GMIAA) is continuing to monitor developments related to the spread of the coronavirus disease (COVID-19). The health and wellness of our passengers, visitors, business partners and employees are our top priority.
Airline Operations
Reminder that our airline schedule may change at anytime, passengers are asked to contact their airline for the latest information about their flight.
WestJet currently operates 3 days a week to Toronto (YYZ) on Tuesdays, Thursdays and Sundays until June 30.
All flights to:
Toronto (YYZ) and Montreal (YUL) routes are currently suspended until June 21 and expected to resume activity June 22.
Halifax (YHZ) and Ottawa (YOW) are suspended until September 7. Both services are expected to resume activity September 8.
* Update:  Porter Airlines flights are temporary suspended and expected to resume activity July 29.
Related News from our Business Partners: 
WestJet is sharing a few more measures they've put in place for your safety. First, you can rest assured that the overhead bin is cleaned with four products approved by @GovCanHealth for disinfecting surfaces.

https://twitter.com/i/status/1265394443508764675
---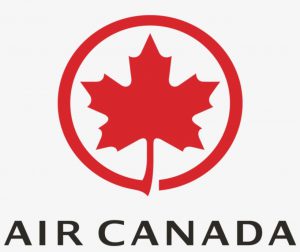 Air Canada's chief medical officer, Dr. Jim Chung, explains how the Air Canada CleanCare+ program is part of a multi-layered approach to minimize risk and to ensure that those who need to fly can do so safely #ACMedia : https://aircanada.com/ca/en/aco/home
---
You may notice some Sunwing flights arriving at #MonctonYQM in the coming days. The flights are carrying temporary foreign workers into New Brunswick to work in various industries with identified labour shortages. #Moncton
---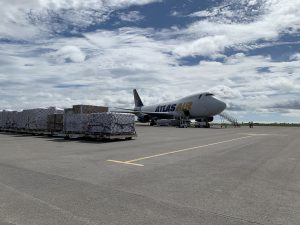 Cargo business continues at #MonctonYQM with a beautiful @AtlasAirWW Boeing 747 destined for China with lobster.
A wonderful sight during these difficult economic times! #Moncton
---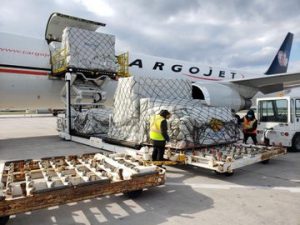 Cargojet continues to supply Canada with critically needed PPE & supplies during this pandemic. Cargojet is committed to ensuring a safe workplace for all of our team while still serving our nation with the same dedication and focus they are accustomed to. #inthistogether
Related Government News: 
New Brunswick Department of Public Safety officials are on site at #MonctonYQM screening all passengers arriving from outside the province.
All current travel-related rules and information are available on the provincial government's website: http://bit.ly/2ZjoLh2.
---
New Brunswick has taken decisive steps to flatten the curve and a phased-in approach to recovery.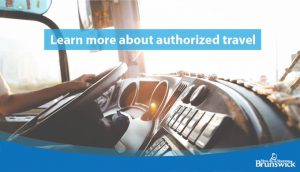 Learn more about authorized travel at https://www2.gnb.ca/content/gnb/en
---
Questions about COVID-19 before you fly?
Check out the Public Health Agency of Canada (PHAC) website: https://canada.ca/en/public-health.html
---
Thank you to all of the airport and airline workers who are doing all that they can to keep Canadians travelling safely. What can you do to help? Bring your own face covering before flying. Failure to do so will affect your travel plans
http://ow.ly/KyQt50zj89N #BringItAndWearIt
---
We are maintaining daily contact with transportation industry partners, counterparts in the United States, and provincial/territorial governments to support efforts in response to COVID-19.
For updates: http://ow.ly/Fm3230qy8aY
---
If you are flying within or outside of Canada, you will be subject to #COVID19 measures, such as a health check, before boarding. This will help to #FlattenTheCurve by detecting and managing ill travellers with suspected COVID-19.
Learn more: http://ow.ly/crx230qBJ5J
---
Canadians should continue to follow public health advice and #StayHome.  However, if you need to travel, bring your own face covering and wear it to help protect others around you.
Learn more about #COVID19 transportation measures: http://ow.ly/SHCh30qziuA #BringItWearIt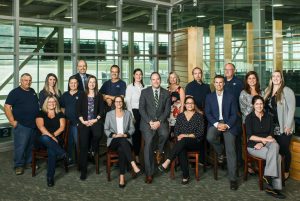 From everyone at the airport – many thanks for your cooperation and assistance during this time of crisis as we aim to mitigate the potential impacts of COVID-19.
We will continue to work with our airline partners, business partners, stakeholders and government regulators to maintain operations at YQM and most importantly, to resume normal operations when possible.
Our goal is to provide you with regular updates on new developments or changes in YQM's operations. We recommend that you follow our social networking platforms to get this information more quickly:
Twitter : @MonctonYQM
Facebook : @MonctonYQM
Website: www.cyqm.ca
Stay safe!
Bernard LeBlanc, President and CEO, and YQM employees