Greater Moncton International Airport Authority (GMIAA) is continuing to monitor developments related to the spread of the coronavirus disease (COVID-19). The health and wellness of our passengers, visitors, business partners and employees are our top priority.
Our goal is to provide you with regular updates on new developments or changes in YQM's operations. We recommend that you follow our social networking platforms to get this information more quickly: Twitter : @MonctonYQM and Facebook : @MonctonYQM
Stay safe!
---
NEW TRAVEL RESTRICTIONS:
As of January 8, travel into New Brunswick is now further restricted and will be permitted only for work; medical reasons; obtaining essential supplies for the communities of Pointe-à-la-Croix and Listuguj First Nation, in Quebec; and child custody or compassionate reasons if approved by Public Health.
Under the new restrictions, Canadian residents who own property in the province or who have family members (parents, children, siblings, grandchildren, grandparents, significant other) residing in New Brunswick will no longer be permitted to enter the province.
Self-isolation and work-isolation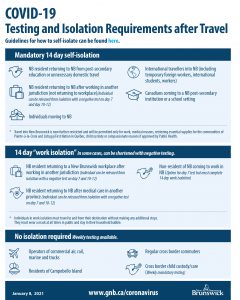 ---
ALL travellers 5 years and over, flying to Canada must provide proof of a negative laboratory LAMP or PCR test result for COVID-19 to the airline prior to boarding a flight to Canada. The test must be conducted within 72 hours of the traveller's scheduled departure to Canada
Failure to do so will result in a denial of boarding.
New pre-departure COVID testing requirement
---
Unless exempt, travellers entering New Brunswick are required to self-isolate for 14 days. This includes New Brunswick residents returning to NB.
Travellers entering New Brunswick must have a confirmation from the New Brunswick Travel Registration Program. Additional information for international and interprovincial travellers can be found here.
* Atlantic Bubble travel is currently suspended. Essential travel between New Brunswick and all Canadian provinces is permitted, however, all travellers must pre-register. Travellers wishing to enter any of the other Atlantic provinces should contact the appropriate provincial government to confirm guidelines and requirements.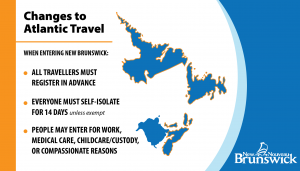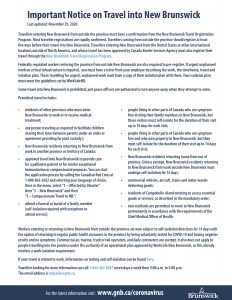 Travellers looking for more information can call 1-844-462-8387 seven days a week from 9:00 a.m. to 5:00 p.m. The email address is helpaide@gnb.ca.
FAQ – Enhanced Public Health Measures and Testing Workers Coming Across the Border
---
Stay informed and learn how we can work together to keep New Brunswickers safe and prevent the spread of COVID-19
Current public health alert level in New Brunswick
---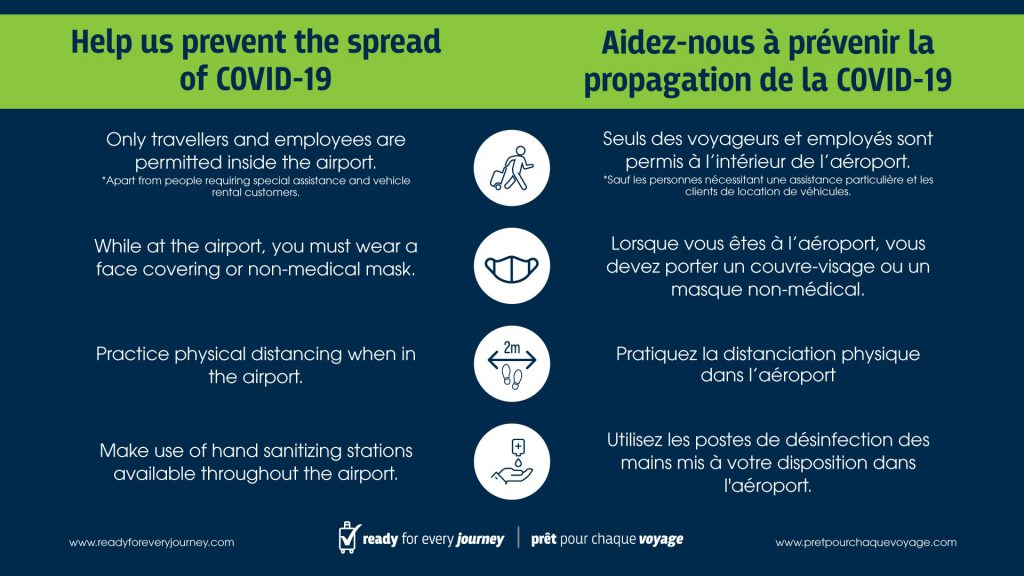 Face Coverings or non-medical masks required in the Air Terminal Building

Anyone who comes to the airport is required to wear a face covering or non-medical mask.. Only travelers and employees should enter the airport. *Apart from people requiring special assistance and persons returning vehicle rentals.
Taking into account Public Health and Transport Canada guidance, we require everyone in the Air Terminal Building, including employees and travelers, to wear a face covering or non-medical mask starting this Saturday, August 1. Masks are an added layer of protection and are especially helpful in settings where physical distancing is not possible. With added flights beginning in August, this will be an approach to keep employees and the travelling public safe.
The following persons are exempt from the requirement to wear a non-medical mask or face covering: infants under 2 years of age, persons with breathing difficulties unrelated to COVID-19, or those who would be unable to remove the mask without assistance.
---
Travellers are advised that officials from the New Brunswick Department of Public Safety (NBDPS) are now screening passengers arriving at the airport.
This screening consists of a questionnaire to determine the reason for travel. Only necessary travel is being allowed to New Brunswick for the time being during the COVID-19 pandemic.
All passengers arriving on a flight will be questioned by a provincial official upon entering the airport. Each flight takes approximately one hour to process. Travellers may not access the baggage claim area before they go through the screening.
The questionnaire consists of standard health questions such as the reason for entering New Brunswick and where the passenger intends to self-isolate for 14 days.
If NBDPS finds that the passenger does not have a valid reason to enter the province per the State of Emergency, they will be denied entry to New Brunswick.
If NBDPS finds that the passenger does not have somewhere to self-isolate for 14 days, they can be denied entry or can be ordered to a hotel to self-isolate.
NBDPS is taking telephone numbers and addresses of all passengers arriving and could call to check in or visit the address to ensure the passenger is following the order to self-isolate.
All hotel costs and return flight (if denied entry) are the responsibility of the passenger.
We will keep travellers updated as the pandemic situation evolves. We thank you for your patience during this unprecedented time.
For the most recent information on travel restrictions to New Brunswick, visit bit.ly/2VMUiWf.
---
By downloading the ArriveCAN app and submitting info BEFORE you travel to Canada, you can:
Reduce wait times

Limit points of contact
---
The Government of Canada has announced mandatory face covering requirements for all air travellers, with limited exceptions.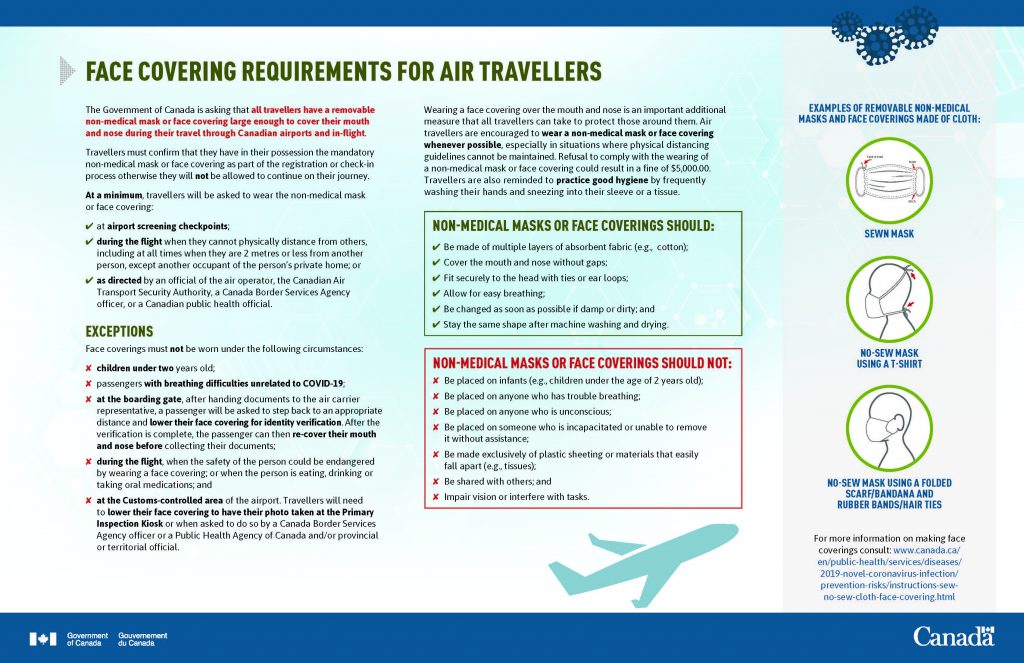 Latest GMIAA Update:
| | | |
| --- | --- | --- |
| August 11, 2020 | May 22, 2020 | April 9, 2020 |
| July 24, 2020 | May 15, 2020 | April 3, 2020 |
| July 8, 2020 | May 8, 2020 | March 27, 2020 |
| June 19, 2020 | May 1, 2020 | March 24, 2020 |
| June 8, 2020 | April 24, 2020 | |
| May 29, 2020 | April 17, 2020 | |
---
Impacted Flights
All impacted flights, currently suspected for being at risk for COVID-19 will be listed here.  Individuals who travelled on these flights should self-monitor for symptoms for 14 days after the flight. Should symptoms develop, they are directed to self-isolate and call 811.
Everyone coming into the Greater Moncton Roméo LeBland International Airport must self-isolate for 14 days following all out of province travel, including within Canada and the US.  If you develop symptoms, call 811.
| | | | |
| --- | --- | --- | --- |
| Flight Number | Arrival Date | Departing | Destination |
| Air Canada AC8910 | January 6 | Toronto, ON | Moncton, NB |
| Air Canada AC8910 | January 3 | Toronto, ON | Moncton, NB |
| Air Canada AC8910 | January 1 | Toronto, ON | Moncton, NB |
| Air Canada AC8910 | December 20 | Toronto, ON | Moncton, NB |
| Air Canada AC8910 | December 19 | Toronto, ON | Moncton, NB |
| Air Canada AC8902 | December 16 | Montreal, QC | Moncton, NB |