The Greater Moncton International Airport Authority (GMIAA) is ready to welcome back passengers to the Greater Moncton Roméo LeBlanc International Airport (YQM) as New Brunswick and Canada ease measures to re-open travel and tourism, safely and in a coordinated manner.  At YQM we remain committed to the health and wellness of our passengers, visitors, business partners and employees throughout the ongoing changes. 
We recommend that you follow our social networking platforms to get this information more quickly: Twitter : @MonctonYQM and Facebook : @MonctonYQM
Stay safe!
---
What to expect when visiting and traveling YQM
non-travellers are permitted in the terminal building

mask is required to be worn in federally regulated areas; such as: during pre-board security screening, post security waiting area, boarding and deplaning an aircraft until entering the building, customs and border processing area, and onboard your flight

multi-layered safeguards remain in place such as enhanced cleaning protocols, sanitizer stations and plexiglass, etc
The following persons are exempt from the requirements to wear a mask: infants under 2 years of age, persons with breathing difficulties unrelated to COVID-19, or those who would be unable to remove the mask without assistance.
---
International travellers entering Canada
It is the responsibility of the traveller to remain aware of and to comply with the standards for vaccination, testing, or documentation required by their travel destination, stop-over locations, and travel provider.
The Government of Canada regulates the international border and travellers entering Canada. Travellers entering Canada by air, regardless of citizenship, must meet COVID-19 requirements:
Under certain circumstances, you may be exempt from some requirements.
Travellers entering New Brunswick from international destinations are subject to federal testing and quarantine regulations.
If you must travel to or from an international destination, please visit the Government of Canada's travel advice and advisories page for your destination(s) regularly to verify travel health recommendations and safety and security information.
Please note: Take home rapid test kits provided by provincial health authorities or those not undertaken by accredited laboratories may not be deemed acceptable by airlines or destination countries as proof of a negative COVID-19 test. You should confirm prior to any international travel where proof of a negative COVID-19 test is required.
---
COVID-19 testing clinic available at YQM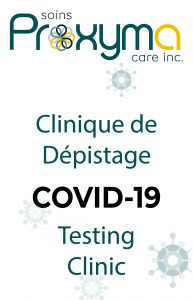 COVID-19 testing is available at YQM for those who may require to show proof of a negative COVID test at their final destination.
This "fee for service" offering is to assist the traveling public in complying with pre-travel testing requirements to allow access to final destination (before leaving ensure entry requirements to final destination province/country are met – they are all different).
Distribution Ad Valorem will be offering three possible testing options including antigen testing, molecular testing as well as PCR testing. Dependent on the option, test results can be available in 15 minutes to 48 hours while pricing for the services range from $149 to $299 (plus HST). The testing cost includes the provision of a certificate confirming date and time of testing, test result and passport number.
The testing facility is located on the main level of the terminal building just prior to clearing security and accessing the departure gates.
Hours of Operation
Open 7 days a week – visit website for available appointment
Please note: hours may vary day to day to meet demands
Telephone: (506) 382-9120
This service is not an airport or provincial government provided service but rather one offered by an independent 3rd party.