The Greater Moncton International Airport Authority (GMIAA) is ready to welcome back passengers to the Greater Moncton Roméo LeBlanc International Airport (YQM) as New Brunswick and Canada ease measures to re-open travel and tourism, safely and in a coordinated manner.  At YQM we remain committed to the health and wellness of our passengers, visitors, business partners and employees throughout the ongoing changes. 
Our goal is to provide you with regular updates on new developments or changes in YQM's operations. We recommend that you follow our social networking platforms to get this information more quickly: Twitter : @MonctonYQM and Facebook : @MonctonYQM
Stay safe!
---
When coming to the Greater Moncton Roméo LeBlanc International Airport, and until further notice, only travellers and employees are permitted inside the terminal building (with the exception of travellers needing special assistance, and vehicle rental and COVID testing centre customers). This measure is to allow proper physical distancing in the terminal building. Mask use remains mandatory.
---
Mandatory COVID-19 Vaccination for Air Travellers
To board your flight and if you are 12 years of age or older, you must:
have received at least 2 doses of an accepted COVID-19 vaccine or a mix of 2 accepted vaccines

or at least 1 dose of the Janssen/Johnson & Johnson vaccine

have received your second dose at least 14 days prior to the day you travel
have no signs or symptoms of COVID-19
All travellers must be fully vaccinated, with very limited exceptions to address specific situations such as emergency travel, and those medically unable to be vaccinated.
---
Canadian COVID-19 Proof of Vaccination
The Canadian COVID-19 proof of vaccination is a reliable way to show proof of your COVID-19 vaccination history when travelling internationally and within Canada.
This proof:
was developed by provinces and territories, with support from the Government of Canada
is a recognized, trusted document that has been shared with our international partners
shows your COVID-19 vaccination history
can be verified after you upload it into ArriveCAN (on your return to Canada)
This proof does not guarantee you entry to another country. Before you travel, you must check the rules of your destination country and the countries you transit through.
You'll need to show your proof of vaccination when travelling in Canada by air. The new Canadian COVID-19 proof of vaccination may be used to show that you meet this requirement.
Provinces and territories may also ask you to use this proof to access non-essential services.
How to get the Canadian COVID-19 proof of vaccination
---
New Brunswick Travel Registration No Longer Required
Registration is no longer required to enter New Brunswick from anywhere in Canada.
If you are entering New Brunswick from outside of Canada, please consult the section international travel below.
COVID-19 inquiries can be sent to helpaide@gnb.ca or call 1-844-462-8387.
---
International Travellers entering New Brunswick
The Government of Canada regulates the international border and travellers entering Canada. Travellers entering New Brunswick from international destinations are subject to federal testing and quarantine regulations.
For entry into Canada and Canada-U.S. border restrictions, visit the Government of Canada page and the Canada Border Services Agency page.
If you must travel to or from an international destination, please visit the Government of Canada's travel advice and advisories page for your destination(s) regularly to verify entry and exit travel requirements.
Please note: Take home rapid test kits provided by provincial health authorities or those not undertaken by accredited laboratories may not be deemed acceptable by airlines or destination countries as proof of a negative COVID-19 test. You should confirm prior to any international travel where proof of a negative COVID-19 test is required.
---
Travelling within Canada
Each province and territory have their own travel restrictions and isolation requirements to protect residents from COVID-19. Do your research before leaving so you are not caught unaware when you arrive.
---
What travellers can expect at YQM
Non-travelers are not permitted in the terminal building

Non-medical mask is mandatory in the terminal building

Practice physical distancing when in the airport


Multi-layered safeguards remain in place such as enhanced cleaning protocols, sanitizer stations, plexiglass, high rate of community vaccination, etc
The following persons are exempt from the requirements to wear a non-medical mask: infants under 2 years of age, persons with breathing difficulties unrelated to COVID-19, or those who would be unable to remove the mask without assistance.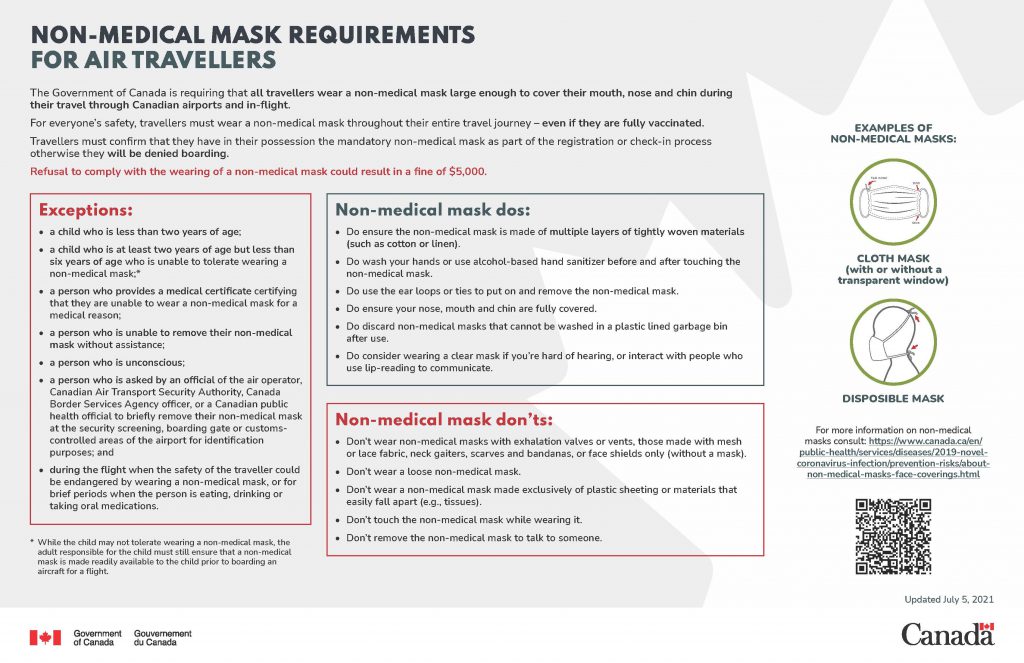 ---
COVID-19 Proof of Vaccination Checks for Passengers by a Canadian Air Transport Security Authority (screening officer)
Canada's proof of vaccination requirement, following Transport Canada regulations, applies to all passengers 12 years of age and older departing from Canadian airports. The regulations come into effect on October 30, 2021, and require that passengers bring official proof of their vaccination status to the airport. Beginning the same day, screening officers will conduct random verifications of passenger vaccination status at the Canadian Air Transport Security Authority (CATSA)'s preboard screening (PBS) checkpoints. Information on acceptable documentation, accepted vaccines and exceptions to the vaccine requirement are available here.
Conducting the Proof of Vaccination Verification
When requested to do so by a screening officer, passengers will need to present a valid record of their COVID-19 vaccination status or COVID-19 test result. Screening officers will ensure that acceptable forms of proof of vaccination status and COVID-19 test results are presented in accordance with the new federal regulations. As part of their duties, screening officers will ensure that the name on a passenger's boarding pass matches the name on the passenger's record of vaccination status.
A passenger who does not have their proof of vaccination or COVID-19 test result, has an unacceptable form of proof of vaccination status or COVID-19 test result, or refuses to provide proof, will be denied access to the sterile area and will be directed to return to their air carrier check-in desk by screening personnel.
Proof of Covid-19 Vaccination
Some New Brunswick businesses will require proof of vaccination to access non-essential services.
Where you will need proof of vaccination
Proof of vaccination required here
---
COVID-19 Testing Clinic Available at YQM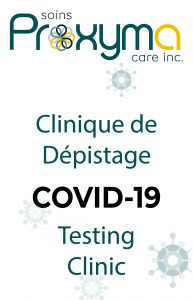 COVID-19 testing is available at YQM for those who may require to show proof of a negative COVID test at their final destination.
This "fee for service" offering is to assist the traveling public in complying with pre-travel testing requirements to allow access to final destination (before leaving ensure entry requirements to final destination province/country are met – they are all different).
Distribution Ad Valorem will be offering three possible testing options including antigen testing, molecular testing as well as PCR testing. Dependent on the option, test results can be available in 15 minutes to 48 hours while pricing for the services range from $149 to $299 (plus HST). The testing cost includes the provision of a certificate confirming date and time of testing, test result and passport number.
Anyone interested in procuring such testing services can book online at www.testcovidentreprise.com.
The testing facility is located on the main level of the terminal building just prior to clearing security and accessing the departure gates.
Hours of Operation
Open 7 days a week – visit website for available appointment
Please note: hours may vary day to day to meet demands
Telephone: (506) 382-9120
This service is not an airport or provincial government provided service but rather one offered by an independent 3rd party.
---
COVID-19 Test Results for Asymptomatic Travellers

MyHealthNB (myhealth.gnb.ca) is the best and most efficient way to access your COVID-19 test results. MyHealthNB allows you to print an official PDF copy of your COVID-19 test result for the purposes of travel.
If you can't access your COVID-19 test result from MyHealthNB, and you are an asymptomatic air traveller who needs a COVID-19 test result to board an international flight out of New Brunswick, you may complete and submit this form to receive your result from Horizon.

If you are an asymptomatic air traveller and you need a COVID-19 test to take an international flight leaving from New Brunswick, visit MyHealthNB (myhealth.gnb.ca) to get your result. This site also allows you to print an official PDF version of your COVID-19 test result needed to travel.
If you took a COVID-19 test at one of Vitalité Health Network's clinics and do not have access to your result on MyHealthNB, please contact one of the Network's Health Records Department offices.
Beauséjour Zone – Zone 1A
Dr. Georges-L.-Dumont Hospital
Health Records Department
Monday to Sunday 8am–11pm: 506-862-4107
archives_gdh@vitalitenb.ca
After 11pm: 506-862-4000
Stella-Maris-de-Kent Hospital
Health Records Department
Monday to Friday 8am–4pm: 506-743-7860
After 4pm, holidays and weekends: 506-743-7820
Northwest Zone – Zone 4
Edmundston Regional Hospital
Health Records Department
Monday to Friday 8am–4pm: 506-739-2481
After 4pm, holidays and weekends: 506-739-2200
Grand Falls General Hospital
Health Records Department
Monday to Friday 8am–4pm: 506-473-7524
After 4pm, holidays and weekends: 506-473-7555
Hôtel-Dieu Saint-Joseph de SaintQuentin
Health Records Department
Monday to Friday 8am–4pm: 506-235-7117
After 4pm, holidays and weekends: 506-235-2300
Restigouche Zone – Zone 5
Campbellton Regional Hospital
Health Records Department
Monday to Friday 8am–4pm: 506-789-5053
After 4pm, holidays and weekends: 506-789-5000
Restigouche Hospital Centre
Health Records Department
Monday to Friday 8am–4pm: 506-760-4047
After 4pm, holidays and weekends: 506-789-5000
Dalhousie St. Joseph Community Health Centre
Health Records Department
Monday to Friday 8am–4pm: 506-684-7139
After 4pm, holidays and weekends: 506-789-5000
Acadie-Bathurst Zone – Zone 6
Chaleur Regional Hospital
Health Records Department
Monday to Friday 8am–4pm: 506-544-3249
After 4pm, holidays and weekends: 506-544-3000
Enfant-Jésus RHSJ† Hospital
Health Records Department
Monday to Friday 8am–4pm: 506-726-2344
After 4pm, holidays and weekends: 506-544-3000
Tracadie Hospital
Health Records Department
Monday to Friday 8am–4pm: 506-394-3133
After 4pm, holidays and weekends: 506-394-3000
Lamèque Hospital and Community Health Centre
Health Records Department
Monday to Friday 8am–4pm: 506-344-3488
After 4pm, holidays and weekends: 506-544-3000