Our airport has an Environmental Management System based on the requirements of ISO14001:2015. This includes many programs and procedures, such as:
Management of Storage Tanks
Waste Management
Carbon Reduction
Wildlife Management
Management of Halocarbons (in cooling and air conditioning systems)
Environmental Incident Management and Emergency Preparedness
Management of Aircraft De-icing and Anti-icing (from October to May each year)
Management of Projects and Construction Activities
Environment Auditing
Airport Carbon Accreditation
In May 2018, we achieved Airport Carbon Accreditation Level 2 – Reduction. For this we developed and implemented a Carbon Management Plan, detailing targets and initiatives for reducing carbon emissions. This achievement makes us one of only 4 airports in the whole of Canada at this level.
We are now setting our sights on Level 3 – Optimization, which includes calculation and management of other emissions which are not within our control but directly impact the airport, such as emissions from ground handling equipment and landing/take-off of aircraft. For this we will be engaging our stakeholders to share information and collaborate on future carbon reduction projects.
A Carbon Reduction Study was commissioned in 2017, which identified projects to reduce our carbon footprint, such as the retrofit of LED lighting in the Airport Terminal Building and the installation of a voltage optimization system. We are committed to the ongoing review of the latest technologies in order to identify further improvements. We also undertake energy efficiency awareness campaigns with staff and stakeholders, including a regular newsletter and the recent purchase of two airport bicycles for staff to use to travel between airport buildings, reducing fuel usage.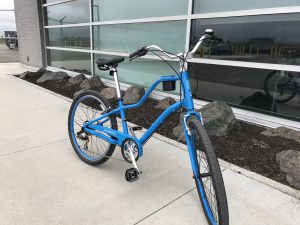 Waste Diversion Programs
The Greater Moncton International Airport Authority Inc (GMIAA) segregates the waste generated by the airport wherever practicable, to minimize waste sent to landfill.
Separate receptacles are placed throughout the terminal building for segregation of recyclable waste and general waste. Organic waste is sent for composting at a local facility.
GMIAA also collects used batteries and cell phones, which are recycled through the Call2Recycle program.
Environmental Assessments
YQM assesses all projects taking place on airport property for their environmental impact. This ensures that if necessary, steps can be taken to mitigate any potential adverse effects.
YQM did not initiate any projects that were likely to cause significant adverse environmental effects during the 2018 reporting period.